"Autumn in everything": What to read for Fall
October 14, 2022
︎︎︎
A Good Used Book
There's a slowing that happens at the end of September that darkens our days and marks the year's most dramatic turning of seasons. Gone is the exuberance of summer, its heat slowly moving out of the sky and into the hearth, and in its place rises a reverent autumn: full of velvets and lit lamps and leaves that turn like pages. Here now, fall calls for the clearing of desks and the dusting of shelves. It calls for renewed curiosity, bravery, and bite.
Speaking of bite… there will always be
Dracula
and
Interview with the Vampire,
just like there will always be
The Parable of the Sower.
All worthy books, certainly, but none so worthy of October as Octavia Butler's masterful
Fledgling.
More science fiction than vampire fiction, this novel paints the infamous creatures in a new light. One that is communal and symbiotic; one that redefines the complexities of both being and body.
Shirley Jackson always had an uncanny ability to get a rise out of her readers, whether they liked it or not. In fact, when The New Yorker published her short story "
The Lottery
" in 1948, the literary magazine received the most letters it ever had in response to a work of fiction – letters of upset, of fear, of offense – and
The Haunting of Hill House
reads much the same. In fact, it is a book that both
Neil Gaiman
and Carmen Maria Machado have
listed
as the scariest book of fiction they have ever read.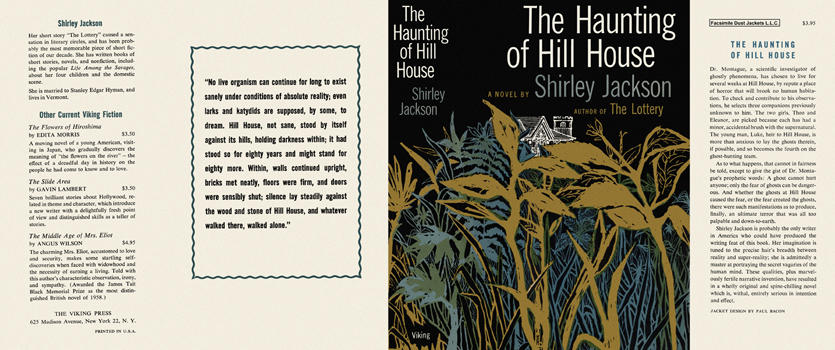 A work of candle-lit recollecting,
In the Dream House
is a memoir unlike any other. In it, author Carmen Maria Machado allows the shadows of her memories to dance on the ever-shifting walls of her story: scenes of a complicated adolescence and an abusive partnership, of horror and of queerness. It is a simultaneous weaving and unraveling, another perfect work from the author of
Her Body and Other Parties.
At turns bone chilling and heartwarming,
The Night Watchman
moves between the rural boundaries of the Turtle Mountain Reservation in North Dakota, the Twin Cities in Minnesota, and the floor of the United States Congress. Inspired in part by the life of Louise Erdrich's own
grandfather
, this book is a living document: a testament to indigenous identity and the continued evils of the white world.
We all know by now that the Puritan concept of "witchcraft" in Salem was just a violent and lazy solution for the problem of women: independent women, women with property, uninterested women, women who could not conceive, healing women, and so on. This play by Arthur Miller, though published in 1953 and written as a Red Scare allegory, reaches down to the very roots of that early satanic panic – making
The Crucible
the perfect distillation of Halloween hysteria.