California 101:
A Reader's Guide to Books Set in California
July 23, 2021
︎︎︎
A Good Used Book
California literature, as a genre, can seem as vast as the Golden State itself. There are San Francisco books, Los Angeles books, Sacramento books, Big Sur books. There are books that read like landmarks. There is California noir, California dystopia, California memoir, California true crime, and popular California fiction. There are
literary maps
to follow… and get lost in. There are, thankfully, great places to start.
Play It as It Lays by Joan Didion
Born in Sacramento in 1934, Joan Didion went on to live and write all over the state. Her books, which follow her from Haight-Ashbury to Laguna Beach, are the same books that top every list of California must-read literature. So necessary she is to this study, we can't help but list her here ourselves.
Play It as It Lays
is Didion's high-speed portrait of Los Angeles. Her second novel, and easily her most popular piece of fiction, it is as scathing as it is show-stopping. Bouncing from mansion to freeway, liquor cabinet to pool chair, she only gives us one option… to hold on.
The Parable Series by Octavia Butler
Though it was Joan Didion who said, "Los Angeles weather is the weather of catastrophe, of apocalypse," it was Octavia Butler who wrote it into truth. One of the first Black women to break into the science fiction genre, and still the first and
only
sci-fi author to be awarded a MacArthur Genius Grant, her archive remains one of the
Huntington Library
's
most heavily used collections.
A two-books series,
The Parable of the Sower
and
The Parable of the Talents
center around a ruined Los Angeles and the Northern flight of its citizens. Decimated by the super-rich, by drought and uncontrollable fire, by shelterlessness and disease, Butler's California is the one that looms around every corner.
Tortilla Flat by John Steinbeck
John Steinbeck is another perpetual name in California literature. Born in Salinas in 1902, he is the author of such classics as
East of Eden, Cannery Row,
and
Of Mice and Men.
His
museum
may be in his hometown, but his name decorates street signs and silver plaques all across the central coast.
Tortilla Flat
follows Steinbeck's usual cast of characters: the biologist, the madam, the Chinese grocer, and the winos. Like some of his other short works, it is nestled between the sardine canneries and the cliffside bungalows of Monterey. It is with big strokes that he paints another generous portrait of humanity, fiasco, and fun.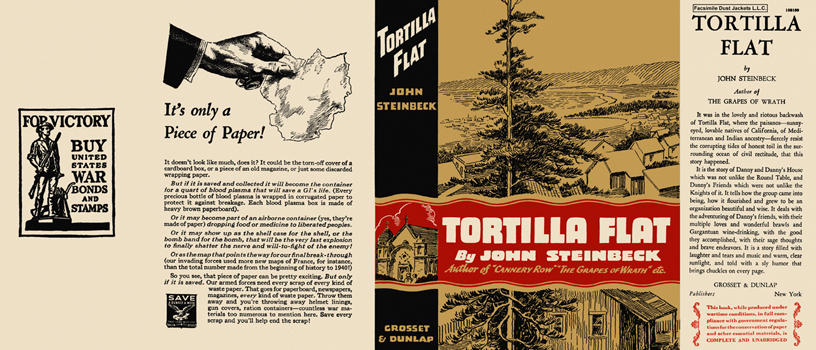 The Joy Luck Club by Amy Tan
Amy Tan's parents both immigrated from China to California, settling in Oakland. In later life she would move between schools and states… always coming back to this one. From San Jose to Santa Cruz to Berkeley and from carhop to switchboard operator, she would eventually begin a freelance writing career - though always under a white-washed pseudonym.
The Joy Luck Club,
composed of interlocking stories, chronicles the lives and friendships of Chinese mothers and their American-born daughters in San Francisco. It was Amy Tan's first novel and is now her forever bestseller. Not to mention, it was the book that launched her literary career under her real name.
The Big Sleep by Raymond Chandler
Raymond Chandler wrote his stories through the
Second Street Tunnel
and down the bar at the
Musso and Frank Grill
. He wrote between the Central Library and the Signal Hill oil fields and ended up with this - his very first appearance from the famous Philip Marlowe.
The Big Sleep,
set in L.A. and published in 1939, remains the epitome of the hardboiled crime novel and the time capsule for a city long-gone. Los Angeles, to Chandler, will always be "a city no worse than others, a city rich and vigorous and full of pride, a city lost and beaten and full of emptiness." That is… depending on where you are.